Roasted Red Garlic Hummus. Watch How To Make It Here. Roasted Garlic & Red Pepper Hummus. Recipe PDF. ▸ ▹ Vegan, gluten-free, refined sugar-free, nut-free.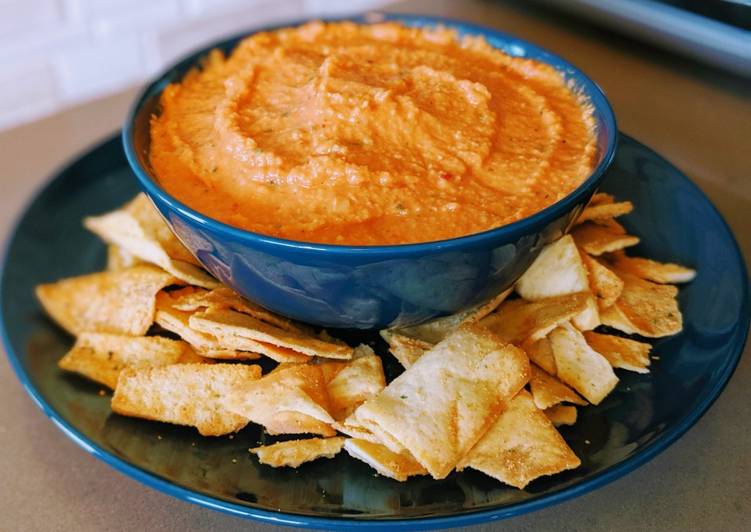 Cooked Chickpeas, Water, Tahini (Ground Sesame), NonGMO Soybean Oil, Garlic, Salt, NonGMO Citric Acid, Red Bell Pepper, Potassium Sorbate Added To Maintain Freshness, Spices. My favourite hummus is Fontaine Santé's Roasted Garlic Hummus. Ughh, it's so creamy, so smooth, so perfectly salty and garlicky… Even better? You can have Roasted Red Garlic Hummus using 9 ingredients and 1 steps. Here is how you achieve that.
Ingredients of Roasted Red Garlic Hummus
You need 24 oz of Chickpeas/Garbanzo Beans.
It's 3 tbsp of Sesame Paste/Tahini.
It's 6 cloves of garlic.
You need 1/2 cup of Roasted Bell Pepper in juice.
It's 2 tbsp of Lemon Juice.
You need 2 tbsp of Brown Sugar.
Prepare 3 tsp of Salt.
It's 1 tsp of Parsley Flakes.
You need 1/4 tsp of Paprika.
This roasted garlic hummus recipe is one of our most popular recipes and always wins rave reviews. The garlic, lemon and creamy texture The garlic, lemon and creamy texture are just perfect! I originally shared this Roasted Garlic Hummus and the story of the Beirut Restaurant here on March. I roasted a whole head of garlic, making it soft and buttery and fragrant, and added it, along with roasted red peppers, to the typical hummus ingredients of chickpeas, tahini As I was preparing to make this hummus, our girls were going through our Shutterfly book from our trip to Egypt, reminiscing.
Roasted Red Garlic Hummus step by step
Blend all of the above ingredients in a blender. Serve with pita strips or bagel chips. Attempt not to eat all of it at once..
Make sure you check out my Creamy Roasted Garlic Hummus recipe, if you'd like to make hummus yourself. I also used it in party appetizers like this Mediterranean Seven Layer Dip With Hummus. Are you looking for a light lunch option for work or for at home? This is the perfect lunch for when you are looking to cut. Hummus made with roasted red bell peppers, tahini and spices.