Blue Cheese & Zucchini Turkey Burger Sliders.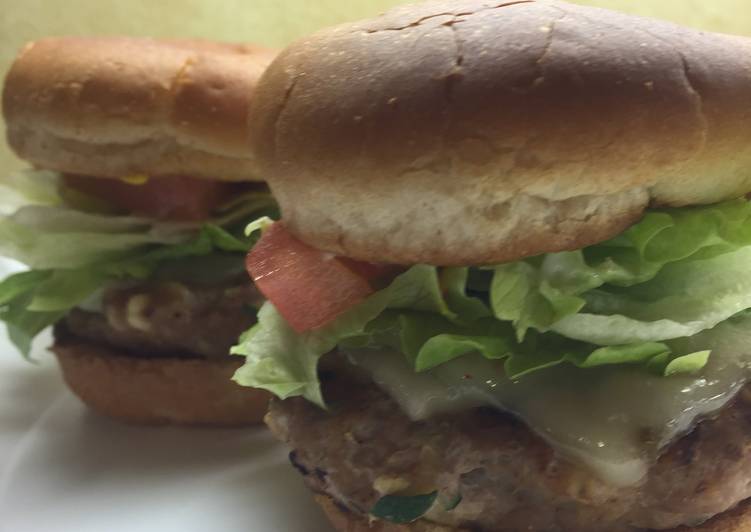 You can cook Blue Cheese & Zucchini Turkey Burger Sliders using 21 ingredients and 5 steps. Here is how you achieve it.
Ingredients of Blue Cheese & Zucchini Turkey Burger Sliders
You need of For the Turkey Sliders.
Prepare 1 lb of Ground turkey.
You need 1/2 cup of Shredded zucchini.
You need 1/4 cup of Panko bread crumbs ( I used chipotle flavored crumbs).
It's 1/4 cup of Good quality crumbled blue cheese.
It's 2 of Green onions.
Prepare 1/2 tsp of Garlic powder.
You need 1/2 tsp of Smoked chipotle powder.
It's 1/2 tsp of Black pepper.
It's 1/4 tsp of Smoked ground cumin.
Prepare of Other Ingredients.
Prepare 1 packages of White or wheat slider bread buns.
You need of Garnishes.
Prepare 1 of Spinach or lettuce of your choice.
It's 1 of Mustard.
You need 1 of Mayonnaise.
Prepare 1 of Ketchup.
Prepare 1 of Cheese slices of your choice if desired.
Prepare 1 of Sliced tomatoes (I like mine salted and peppered, yum!).
You need 1 of Sliced purple onions.
You need 1 of Sliced pickles.
Blue Cheese & Zucchini Turkey Burger Sliders instructions
Mix all ingredients for the turkey sliders in a large bowl. I like to get in there and mix it up with my clean hands to make sure all of the ingredients get well incorporated. (Ladies this would be a good time to take the rings off lol).
Roll enough of the mixture to form a little bit larger than a golf ball sized "meatball". Flatten out the burger by patting it slightly to form the burger patty. I always make a small indention in the middle of the burger so the burger doesn't puff up and it retains most of its juices..
Spray a medium sized skillet with non stick cooking spray. Cook the burgers for about 5-6 minutes on each side over medium heat..
Set patties on a plate lined with paper towels as they cook. When done cooking top with your favorite toppings to suit your tastebuds. Enjoy!.
Makes about 10 slider patties..