Malabar Spinach Fish Head Curry.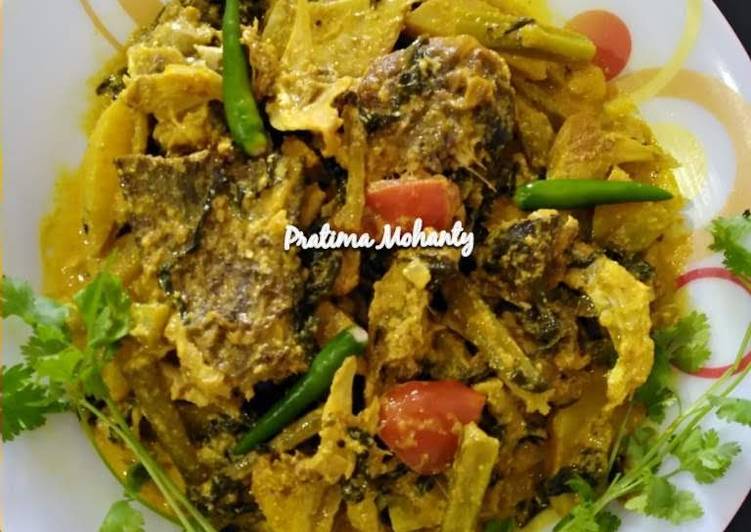 You can have Malabar Spinach Fish Head Curry using 16 ingredients and 11 steps. Here is how you achieve it.
Ingredients of Malabar Spinach Fish Head Curry
You need 2 of fish heads(of rohu fish).
You need 1 bunch of malabar spinach.
You need 2 of potatoes peeled & cut into small cubes.
It's 150 g of pumpkin cut into small.
Prepare cubes of (optional).
Prepare 1 of tomato chopped.
Prepare 1 of onion chopped.
You need 2 tsp of mustard seeds.
Prepare 2 tsp of cumin seeds.
Prepare 5-6 of garlic cloves.
Prepare 2 of green chillies chopped.
Prepare 2 tbsp of mustard oil.
Prepare To taste of salt.
It's 1/2 tsp of turmeric powder.
You need 1 tsp of chilli powder.
Prepare 1 tsp of mustard seeds for tempering.
Malabar Spinach Fish Head Curry step by step
Wash and marinate the fish heads with salt and little turmeric powder. Keep aside..
Remove Malabar spinach leaves of their stems..
Wash both the leaves and stems well. Then chop the leaves roughly. Also chop the stems into 2 inches length. Keep them aside..
Make a fine paste out of the mustard seeds, cumin seeds (2 tsp each), garlic cloves and green chillies..
Heat 2-3 tsp oil in a wok. Add the fish heads and fry till they turn browned on all sides. Remove and crush them with a heavy object. Add them back to the wok and fry till crisp on a low flame. Remove to a plate and keep aside..
Heat remaining oil in the same wok. Add mustard seeds. When they sizzle, add chopped onion and fry till onion turns translucent..
Add all the veggies like potato, pumpkin, malabar spinach stems and tomato. Add turmeric powder, chilli powder, salt and mix well. Let them cook for 3-4 minutes on a medium flame..
Add the fried and crushed fish heads and saute for a minute or two..
Now add the mustard-cummin seeds paste with a cup of water or as needed. Cover and cook for 10 minutes till potatoes are about to be done..
Open the lid and finally add malabar spinach leaves. Cook covered for 5 minutes or till water dries up. Turn off the flame..
Serve hot with rice as a side dish..