Classic Caesar salad.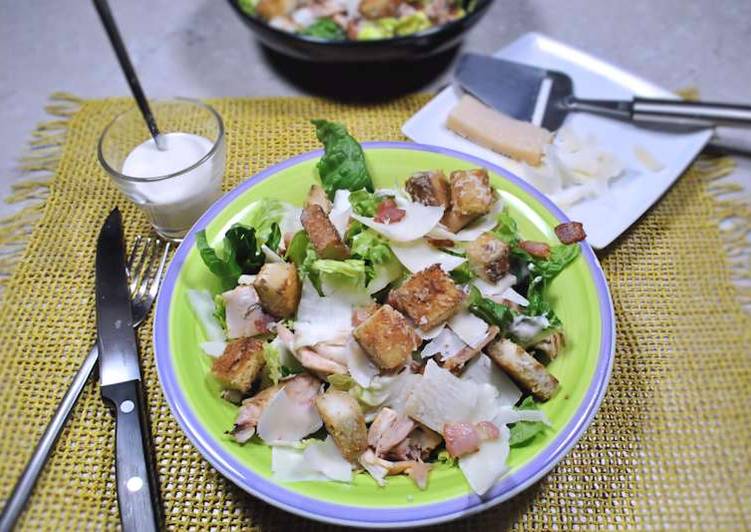 You can have Classic Caesar salad using 14 ingredients and 4 steps. Here is how you achieve that.
Ingredients of Classic Caesar salad
You need 1/2 of small roast chicken, or what's left after your roast.
Prepare 1 head of Cos or Romaine lettuce.
It's 3 rashers of streaky bacon or pancetta, chopped roughly.
It's 2-3 tbsp. of butter.
Prepare 2 slices of white bread, cut into cubes.
It's a little of grated Parmesan for the croutons plus some shavings, to go straight into the salad.
You need of For the dressing:.
It's 1 of anchovy fillet in oil, drained.
Prepare 1 clove of garlic.
You need 2 tsp of mayonnaise.
Prepare 1 tsp of lemon juice.
You need 15 g of Parmesan, grated.
You need 2 tbsp. of crème fraiche.
It's a little of cold water.
Classic Caesar salad instructions
First prepare the dressing: chop up the garlic and the anchovies roughly and pound them into a paste in a mortar and pestle. You might need to add a little black pepper to grind it more easily. Add the rest of the ingredients, mix well and add enough water to have a spooning consistency..
Pick the chicken meat off the bone (make sure it's at room temperature) and tear or cut into bite sized pieces..
Fry the bacon with a little butter until quite crispy. Remove from the pan with the slotted spoon, leaving the fat in. Add the rest of the butter, turn the heat up and toss in the bread cubes. Cook, turning and stirring, adding butter if necessary, until crisp and golden on all sides. Take off the heat, add the grated Parmesan and toss to coat the croutons. Drain on a paper towel..
Chop the lettuce and mix in a bowl (or individual serving bowls or plates) with a little of the dressing. Add the chicken pieces, sprinkle with bacon and Parmesan shavings, top with the croutons and serve with the extra dressing on the side..