Mini S'mores Cups.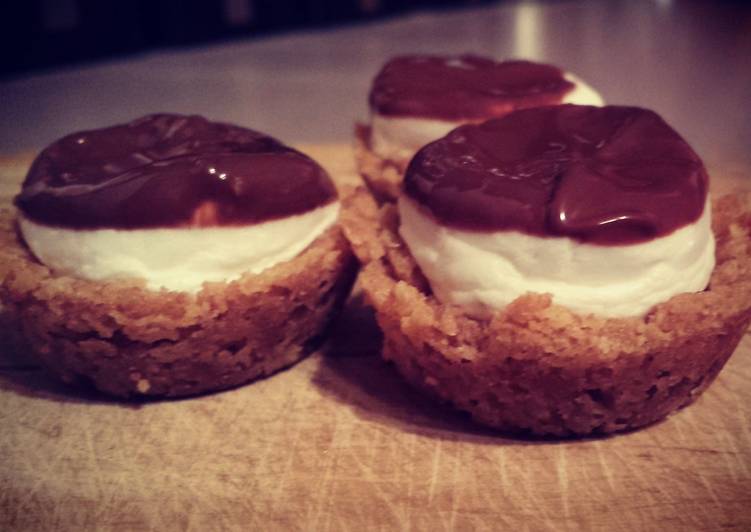 You can cook Mini S'mores Cups using 5 ingredients and 5 steps. Here is how you cook it.
Ingredients of Mini S'mores Cups
Prepare 7 of whole graham crackers crushed.
You need 1/4 cup of powdered sugar.
It's 6 of tablespoons butter-melted.
It's 4 of chocolate candy bars.
Prepare 12 large of marshmallows.
Mini S'mores Cups step by step
Preheat over to 350°. Place graham crackers in large resealable bag. Finely crush into crumbs. With a fork stir together graham cracker crumbs, powdered sugar and butter in a small bowl..
Place small scoop of crumb mixture in each cup of a mini-muffin pan. Press crumbs to form shallow cups. Bake 4-5 minutes or until edges are bubbling..
While the crusts are in the oven open up two of your candy bars into rectangles and then break the rectangles in half. Remove crusts from oven. Place one small piece of chocolate into each crust.(you could use the whole rectangle piece if you love your chocolate!).
Cut marshmallows in half crosswise. Place one marshmallow half, cut side down, into each cup. Return to oven 1-2 minutes until marshmallows are slightly softened. Remove from oven. Cool about 15 minutes. Carefully remove cups from pan and let cool completely..
Break up remaining candy bars and place in small prep bowl. Place chocolate in microwave for 1 to 1 1/2 minutes until melted and smooth. Stir often. Dip the top of your marshmallows in melted chocolate and let cool for an hour..