Chicken Paprik (Malaysians' Favorite).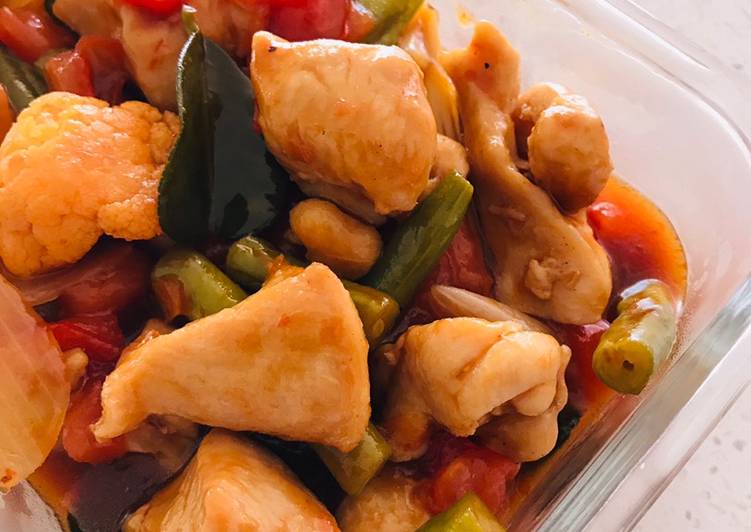 You can have Chicken Paprik (Malaysians' Favorite) using 22 ingredients and 5 steps. Here is how you cook that.
Ingredients of Chicken Paprik (Malaysians' Favorite)
Prepare of 1.
Prepare 700 g of – chicken – cubed.
You need of 2.
It's 3-4 tbsp of cooking oil.
It's 4 of garlic – crushed.
You need 1 stalk of lemon grass – cut & bruised.
Prepare 2 tbsp of Chilli Paste.
You need 6 of kaffir lime leaves.
You need of 3.
You need 1/2 C of sliced carrot.
Prepare 1 C of cauliflower.
You need 1 C of bean/string beans.
Prepare 1 of large brown onion – sliced, big.
You need of 4.
You need 3 tbsp of Chilli sauce.
It's 3 tbsp of Tomato ketchup.
It's 3 tbsp of oyster sauce.
You need 2 tsp of chicken seasoning powder.
Prepare of (or use salt to taste).
Prepare 2 tsp of corn flour + 1/2 C water.
You need of 5. Optional – add last.
Prepare 2 of tomatoes – deseeded & chopped.
Chicken Paprik (Malaysians' Favorite) step by step
Step 1 – Prepare ingredients; cube chicken into small bite size, season with some salt and fry for few minutes to almost cooked. Keep aside..
Crush garlics. Cut a stalk of lemongrass into two 8cm & lightly bruise them. Soak & soften cut, deseeded dried chillies in hot water then Blend with 2 tbsp of oil & a pinch of salt. Blend into smooth paste. Use 2 tbsp of this paste for this dish. Add more if prefer it hot. Keep the rest in the fridge. We make a lot as we use this often in many other asian dishes. Next blanch cauliflower in hot water for few minutes. Put aside. Slice onion. Mix 2 tsp of corn flour with 1/2 C of water..
Step 2 – heat oil in a wok. Sauté garlic & lemon grass until fragrant. Add chilli paste, keep stirring until paste is fully cooked. Add kaffir lime leaves..
Step 3 – add in veggies and chicken..
Step 4 – Next, add in all the sauces, seasoning and corn flour mixture. Stir to combine, taste & adjust. let it simmer until sauce is thickened. Dish should have some gravy but not too much. Add 1/4 C of extra water only if necessary. Adjust accordingly. Serve with white rice. Dish can be reheated in the microwave or on the stove before serving..